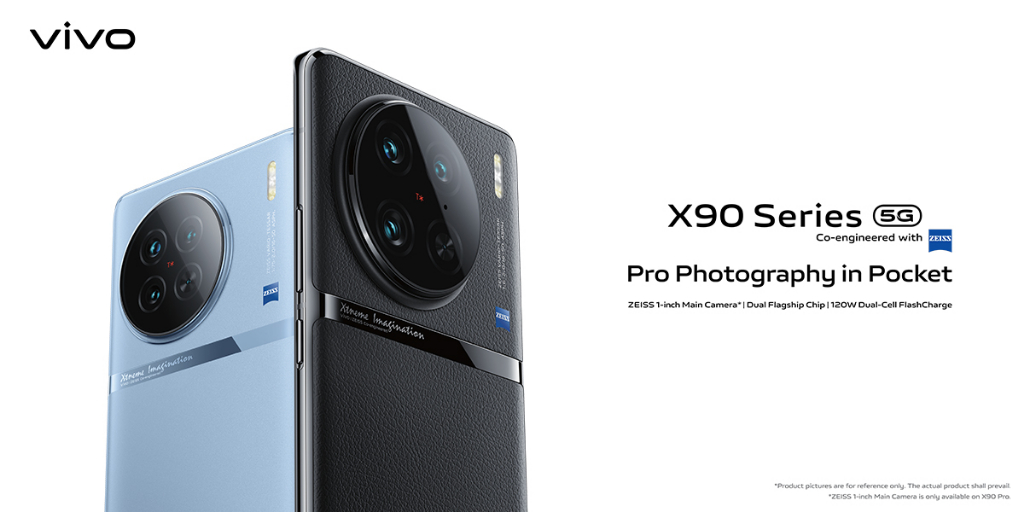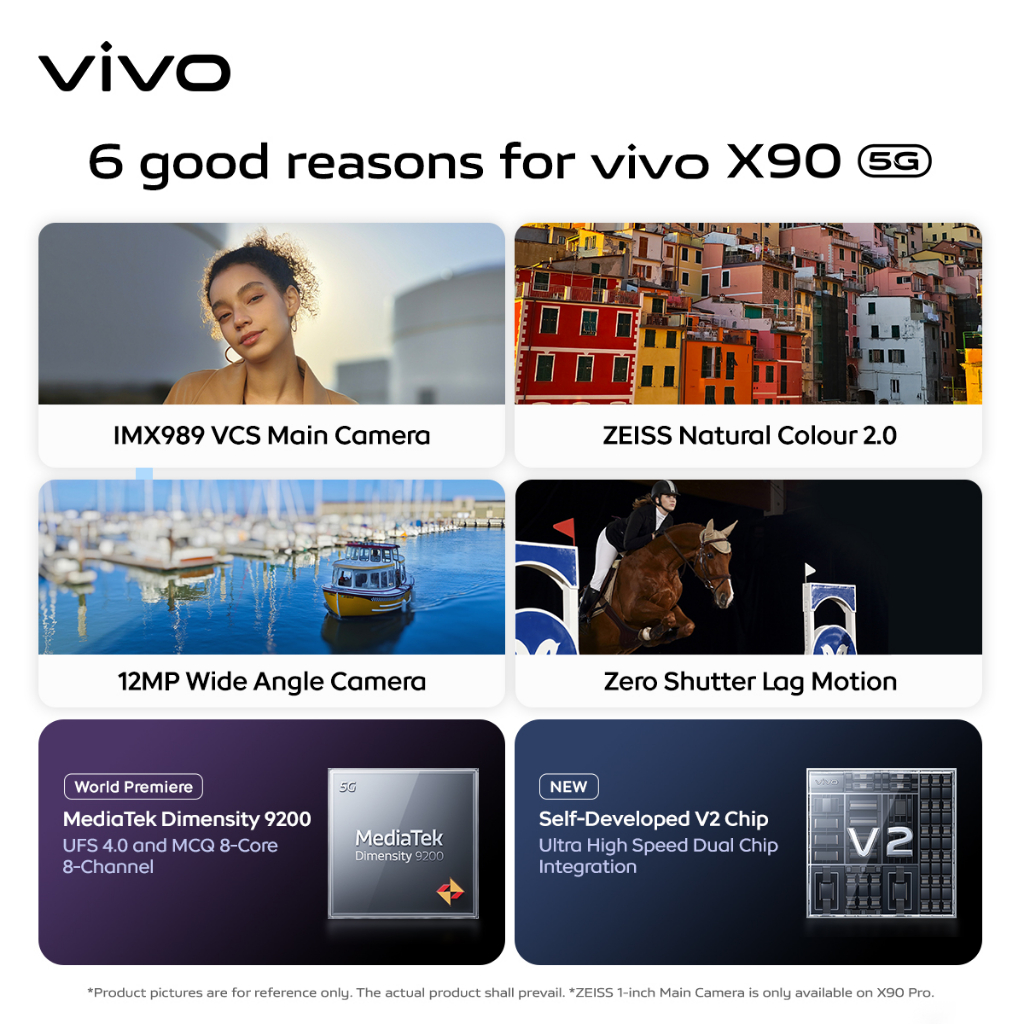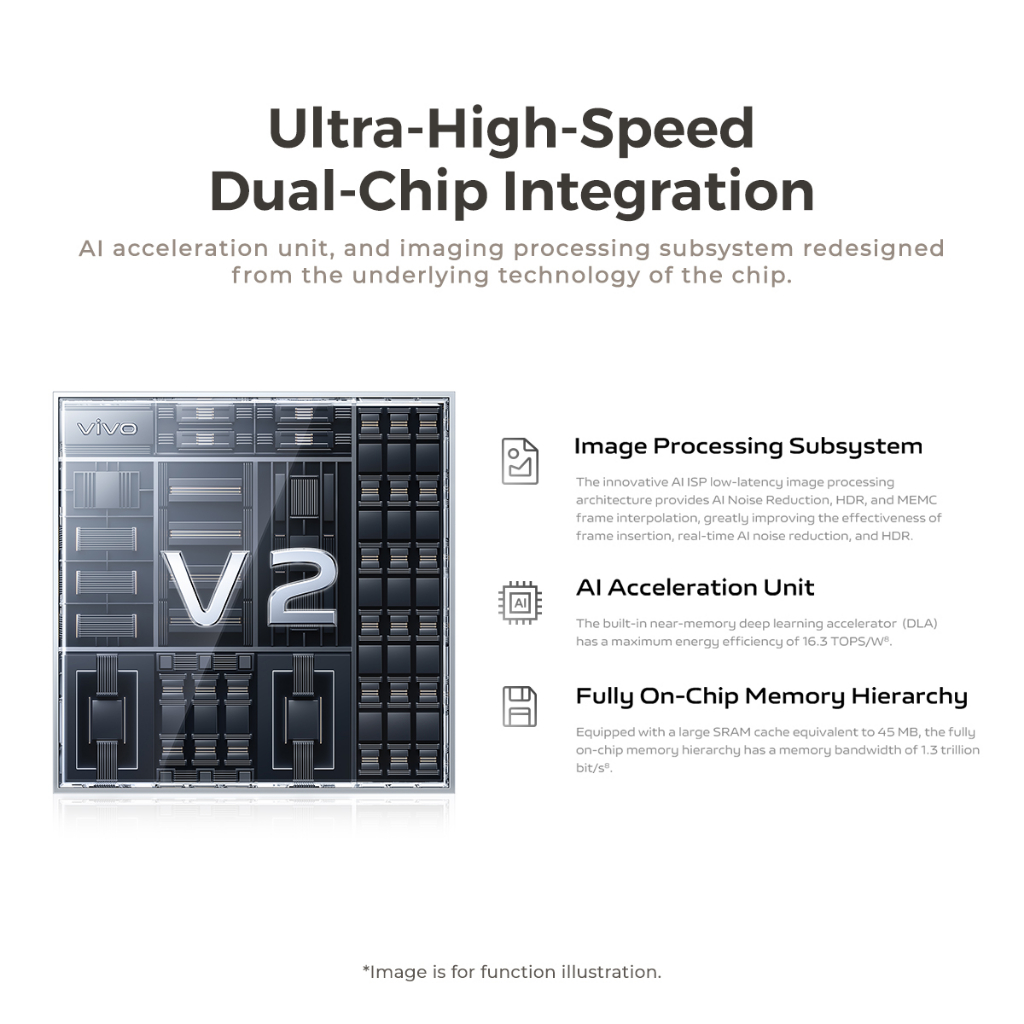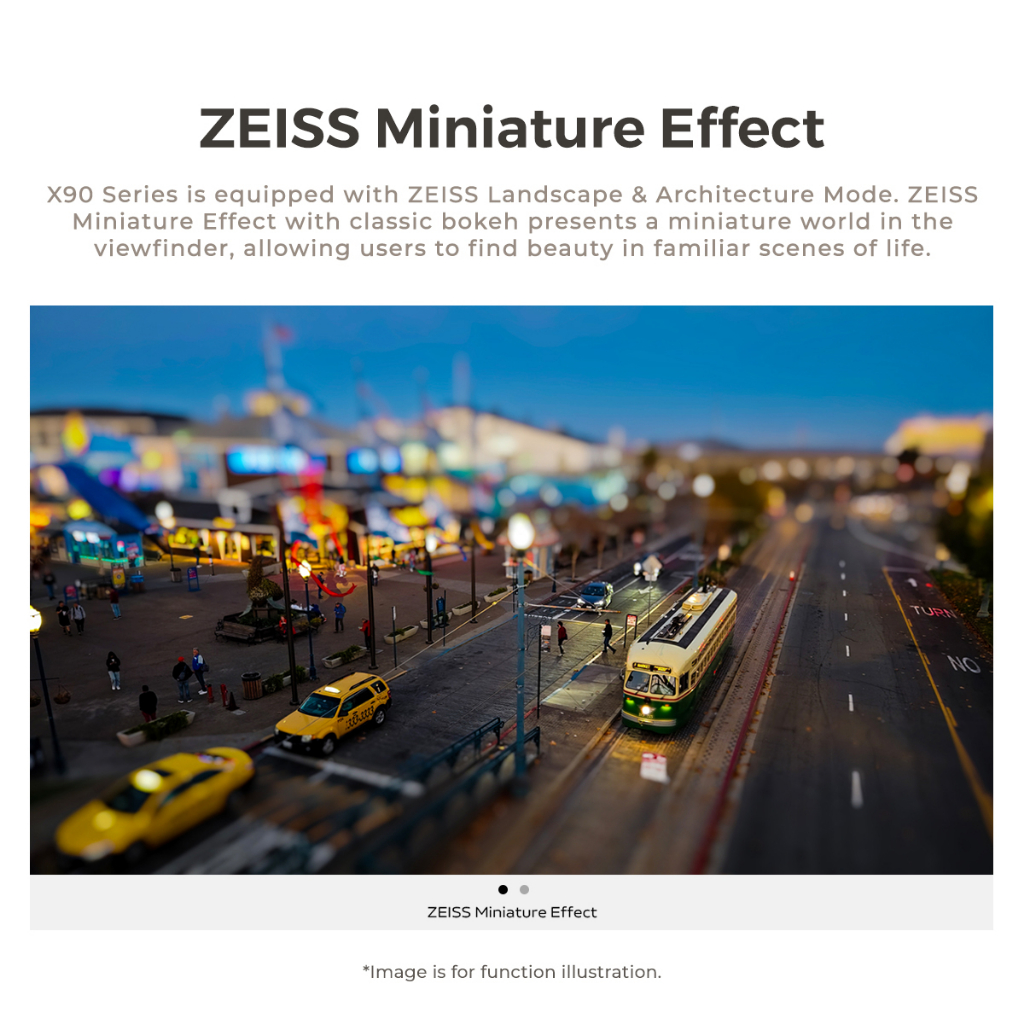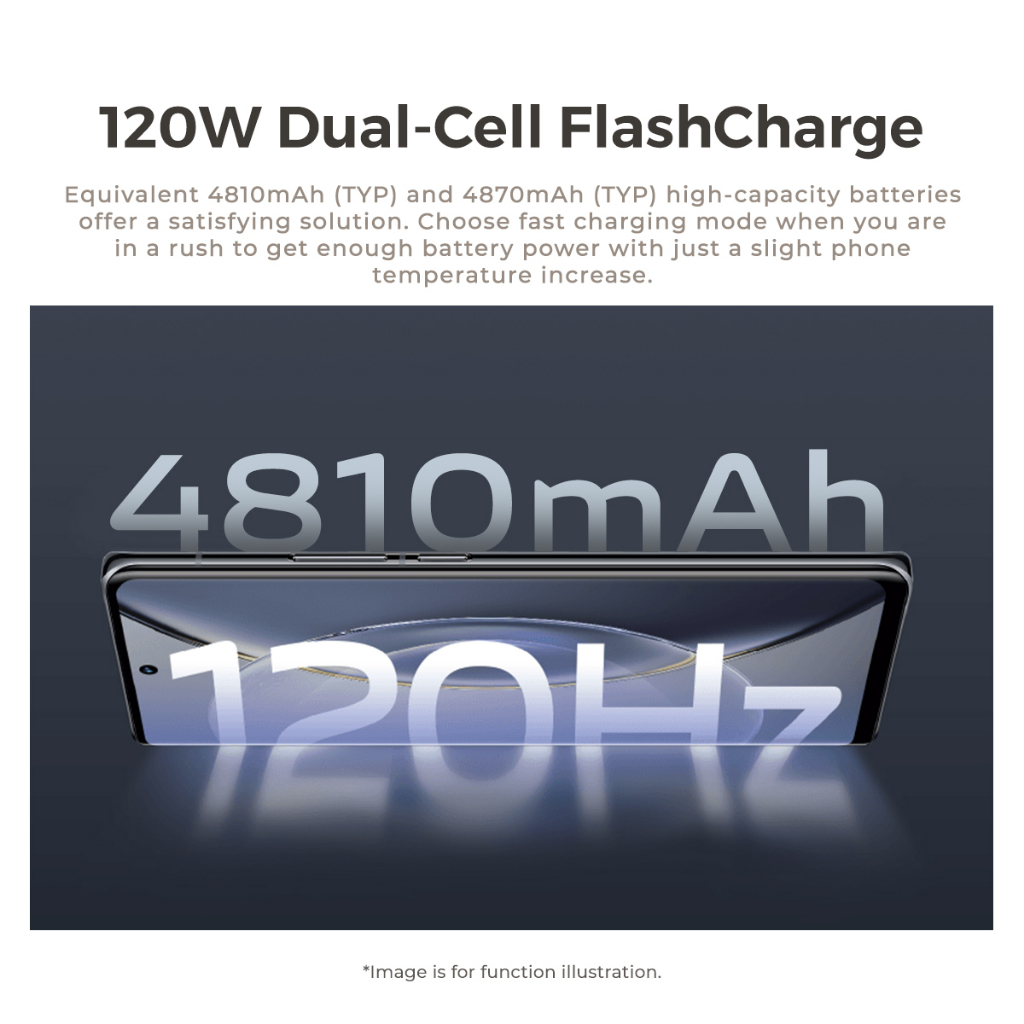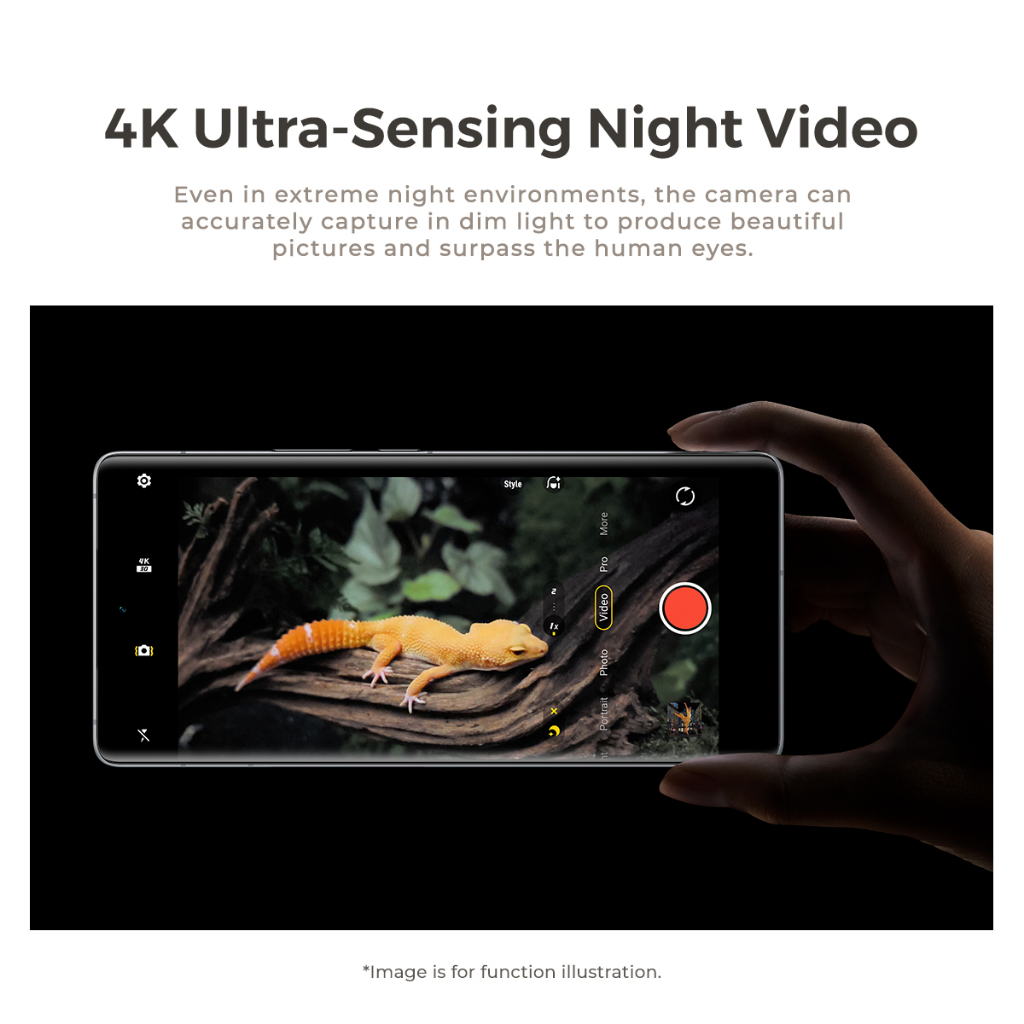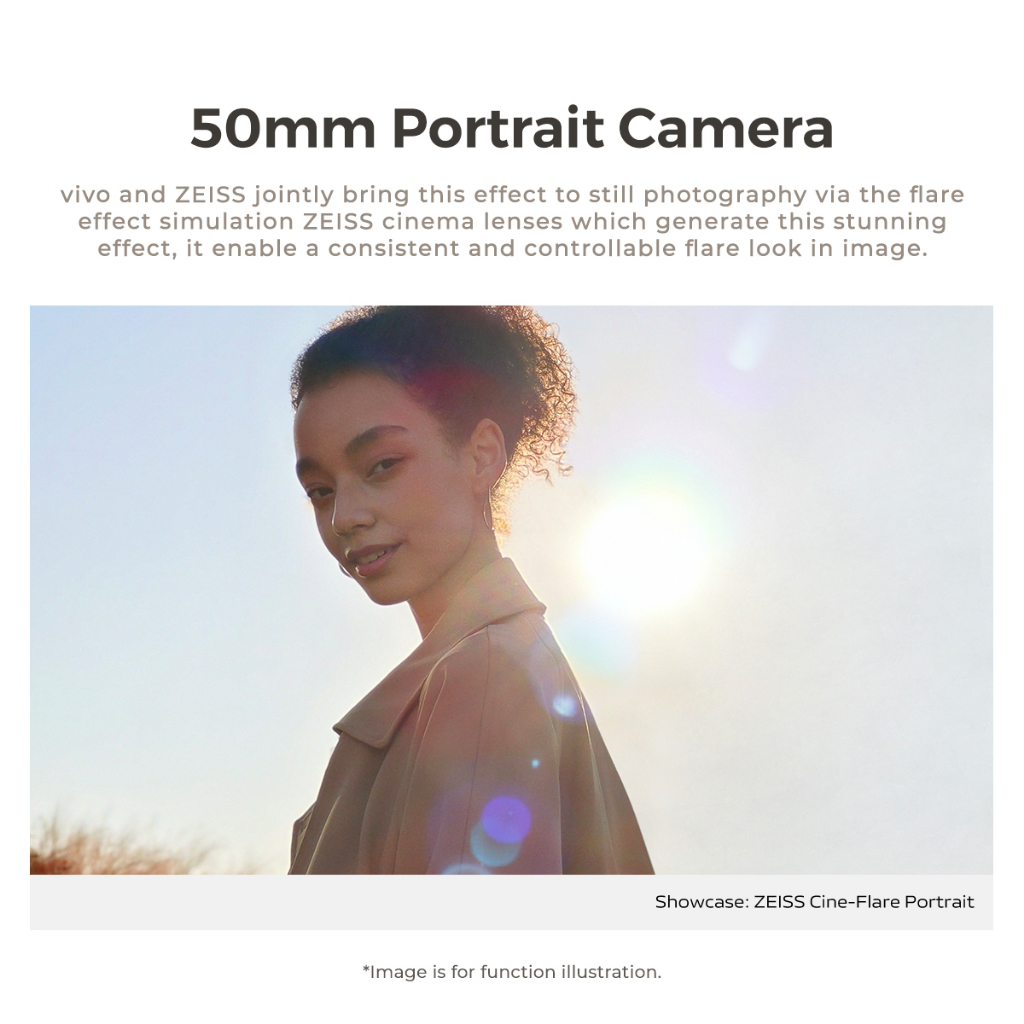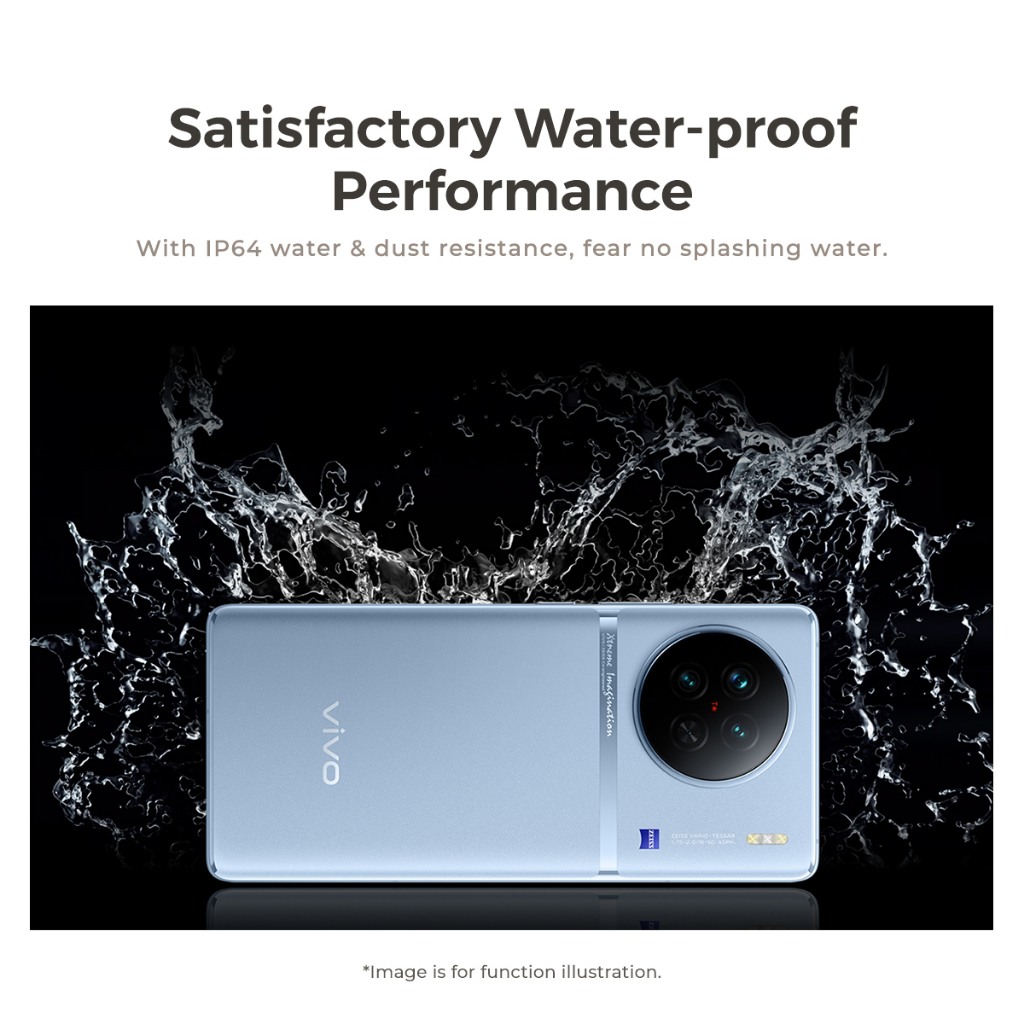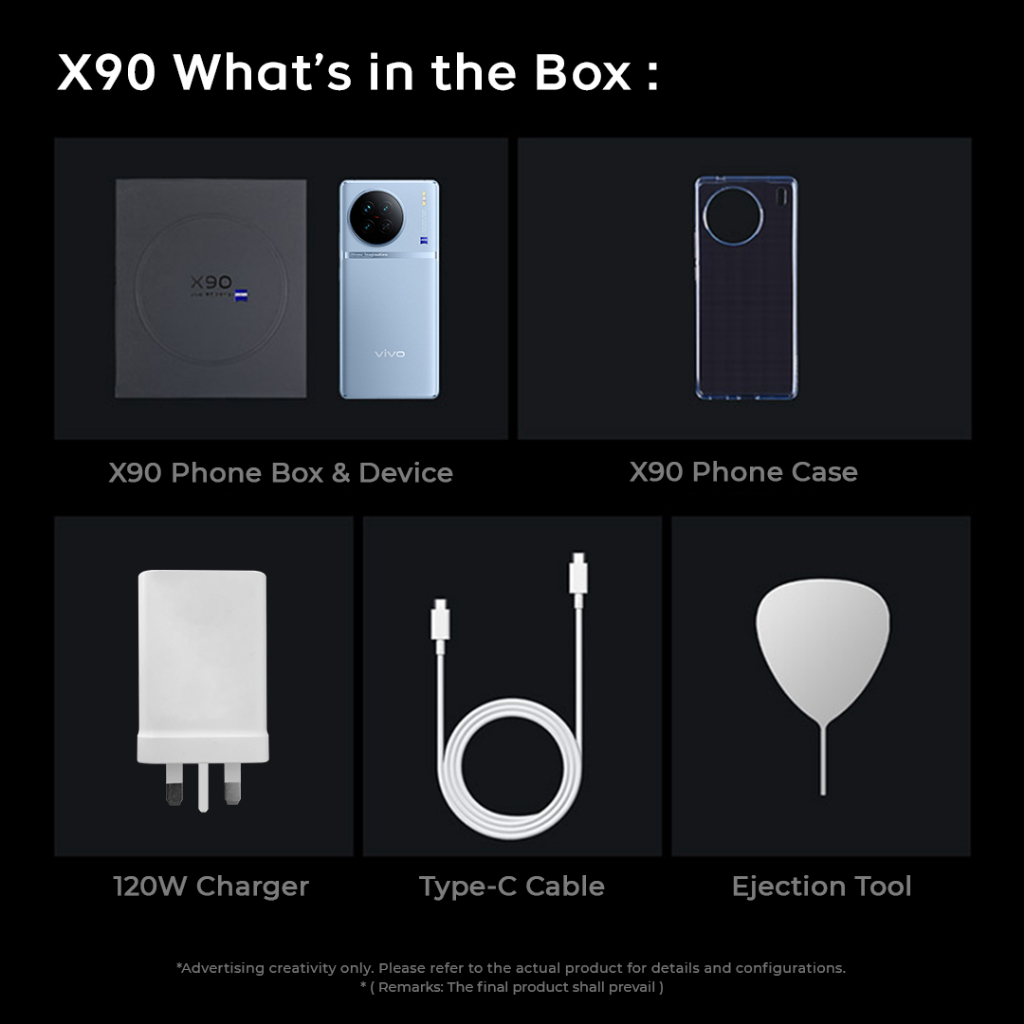 vivo X90 Pro Photography in Pocket
𝐏𝐫𝐨𝐝𝐮𝐜𝐭 𝐇𝐢𝐠𝐡𝐥𝐢𝐠𝐡𝐭
𝐙𝐄𝐈𝐒𝐒 𝐎𝐩𝐭𝐢𝐜𝐬 𝐰𝐢𝐭𝐡 𝐓* 𝐂𝐨𝐚𝐭𝐢𝐧𝐠
- 50MP IMX vcs Main Camera
- 12MP Portraits Camera
- 12MP Wide Angle Camera
𝐃𝐮𝐚𝐥 𝐅𝐥𝐚𝐠𝐬𝐡𝐢𝐩 𝐂𝐡𝐢𝐩𝐬𝐞𝐭
- MediaTek D9200
(1.2M AnTuTu, 4nm, 3.05 GHz)
- vivo Self-Invented 𝐍𝐞𝐰 𝐕𝟐 𝐂𝐡𝐢𝐩𝐬𝐞𝐭
𝟒𝐊 𝐔𝐥𝐭𝐫𝐚-𝐒𝐞𝐧𝐬𝐢𝐧𝐠 𝐍𝐢𝐠𝐡𝐭 𝐕𝐢𝐝𝐞𝐨
- Capture richer details at night
𝐯𝐢𝐯𝐨 𝐅𝐢𝐫𝐬𝐭 𝟏𝟐𝟎𝐖 𝐃𝐮𝐚𝐥-𝐂𝐞𝐥𝐥 𝐅𝐥𝐚𝐬𝐡 𝐂𝐡𝐚𝐫𝐠𝐞
- 8 min charge 50%
- 4810 mAh Battery
𝐅𝐢𝐫𝐬𝐭 𝐢𝐧 𝐖𝐨𝐫𝐥𝐝𝐰𝐢𝐝𝐞 𝐈𝐌𝐗𝟖𝟔𝟔𝐯𝐜𝐬 𝐒𝐞𝐧𝐬𝐨𝐫
- 20% Noises Reduction
- 15% Better Colour Restoration
𝐙𝐄𝐈𝐒𝐒 𝐂𝐢𝐧𝐞-𝐅𝐥𝐚𝐫𝐞 𝐍𝐞𝐰 𝐏𝐨𝐫𝐭𝐫𝐚𝐢𝐭
- 5 Types of ZEISS Portrait
𝐍𝐚𝐮𝐭𝐢𝐜𝐚𝐥 𝐁𝐥𝐮𝐞
Portrait with a cool-toned vibe
𝐁𝐫𝐚𝐧𝐝 𝐍𝐞𝐰 𝐐𝟗 𝐀𝐌𝐎𝐋𝐄𝐃
120 Hz Refresh Rate
300 Hz Touch Sampling Rate
2160 Hz PWM Dimming
𝐒𝐮𝐩𝐞𝐫 𝐌𝐨𝐨𝐧
- New Way to Photography the Moon
𝐆𝐚𝐦𝐢𝐧𝐠 𝐄𝐱𝐩𝐞𝐫𝐢𝐞𝐧𝐜𝐞
- Stereo Speaker X Axis Linear Motor
𝐙𝐞𝐫𝐨 𝐋𝐚𝐠 𝐒𝐞𝐧𝐬𝐨𝐫 𝐒𝐡𝐮𝐭𝐭𝐞𝐫 𝐌𝐨𝐭𝐢𝐨𝐧
- With V2, more accurate can be taken
𝐑𝐀𝐌 & 𝐑𝐎𝐌
12GB + 8GB Extended RAM & 256GB ROM
𝐏𝐫𝐨𝐝𝐮𝐜𝐭 𝐒𝐩𝐞𝐜𝐢𝐟𝐢𝐜𝐚𝐭𝐢𝐨𝐧:
𝐁𝐚𝐬𝐢𝐜
Processor: MediaTek Dimensity 9200
RAM: 12GB + 8GB Extended RAM
*8GB Extended RAM is realized by software.
Storage: 256GB ROM
Battery: 4810mAh (TYP)
Fast Charging: 120W FlashCharge*estimate 8 min charge 50%
Number of batteries: Double Cell
Wireless charging scheme: NOT supported
Color: Breeze Blue / Asteroid Black
Operating System: Funtouch OS 13 (Based on Android 13)
𝐁𝐨𝐝𝐲
Dimensions: 164.10*74.44*8.48mm
Weight: 200g
𝐃𝐢𝐬𝐩𝐥𝐚𝐲
Screen: 6.78", up to 120Hz refresh rate
Resolution: 2800 × 1260
Type: AMOLED
𝐍𝐞𝐭𝐰𝐨𝐫𝐤
Dual Nano
2G GSM: 850/900/1800/1900MHz
3G WCDMA: B1/B2/B4/B5/B8
4G FDD_LTE: B1/B2/B3/B4/B5/B7/B8/B18/B19/B20/B26/B28
4G TDD_LTE: B34/B38/B39/B40/B41
5G: n1/n3/n5/n7/n8/n28/n38/n40/n41/n77/n78
*n8/n38 only support SA."
*Live network functionality is subject to carrier network availability, infrastructure support and software version of the mobile phone.
Standby Mode: Support dual card and dual standby
𝐂𝐚𝐦𝐞𝐫𝐚
Rear Camera: 50MP IMX866vcs Main Camera , 12MP Portraits Camera, 12MP Wide Angle Camera
Aperture: Rear f/1.75 (50MP) + f/1.98 (12MP) + f/2.0 (12MP)
Front Camera: 32MP
Aperture: Rear f/2.45
Flash: Rear flash
Scene Mode: Night, Portrait, Photo, Video, 50MP, Panorama, Live Photo, Slow Motion, Time-Lapse, Pro, AR Stickers, Documents, AI Group Portrait, Double Exposure, Dual-View Video
𝐌𝐞𝐝𝐢𝐚
Hi-Fi: Not supported
Audio Playback: WAV, MP3, MP2, MIDI, Vorbis, APE, FLAC
Video Playback: MP4,3GP,AVI,FLV MKV
Video Recording: MP4
Voice Recording: Supported
Super screen shot: Supported
𝐂𝐨𝐧𝐧𝐞𝐜𝐭𝐢𝐯𝐢𝐭𝐲
Wi-Fi: 2*2 MIMO; MU-MIMO; Wi-Fi 6; 2.4G&5G dual concurrent
Bluetooth: Bluetooth 5.3
USB: USB Type-C, USB 2.0
GPS: Supported
OTG: Supported
NFC: Supported
𝐒𝐢𝐦 𝐜𝐚𝐫𝐝
SIM1 type: nano
SIM2 type: nano
𝐋𝐨𝐜𝐚𝐭𝐢𝐨𝐧
GPS, BEIDOU, GLONASS, GALILEO, QZSS, A-GPS, Cellular Positioning, WLAN positioning
𝐒𝐞𝐧𝐬𝐨𝐫𝐬
Accelerometer: Supported
Color Temperature Sensor: Rear Supported
Ambient Light Sensor: Supported
Proximity Sensor: Supported
E-compass: Supported
Physical Gyroscope: Supported
Motor: Linear motor
Fingerprint Sensor: Screen Fingerprint
Others: Laser focusing sensor, infrared blaster